REGIONAL FUEL STATION - BALMORAL
Fuelco delivered a turnkey project in a rural town, providing a remote retail solution for sales of fuel to the community as well as tanker loading, to enable bulk deliveries to the surrounding agricultural users.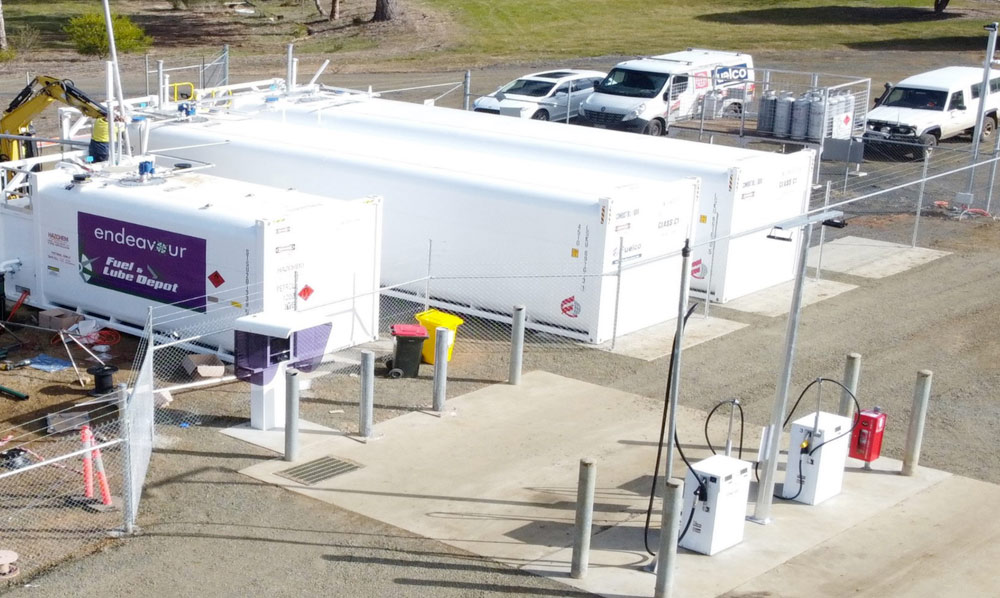 The design, construction, installation, and commissioning of a new 136,000L Diesel and 30,000L Petrol Above Ground Fuel Station, with a retail payment system and bulk tanker loading facilities for both Diesel and ULP.
Fuelco's turnkey project design encompassed the following: Site Layout Design, Civil and Structural Design, Geotechnical Investigation, Hazardous Area System Design, High Flow Loading Arm Skid, Retail Dispensing System, and Electrical Design.
Fuelco's installation team conducted all the civil, structural, and electrical works. The design and system manufacture was done in Australia, with local equipment and part suppliers used where-ever practicable.
2×68,000L Fuelco Kommander tanks and 1×30,000L Fuelco Kombat (Fire Rated) Fuel Storage Tanks.
The System uses pumps to unload the delivery tankers (900 l/min Diesel/520 l/min ULP), these same pumps are used to reload delivery trucks/tankers (850 l/min Diesel/420 l/min ULP). The system also generates a waybill to satisfy the legal loading requirements.
The retail solution consists of a Diesel Dispenser (2 hose – High and Low Flow) and a ULP Dispenser – with payment made through a remote payment terminal.
All tank levels are remotely monitored through the cloud.
These double bunded Fuel storage tanks are fully compliant to Australia Standards and local regulations, and ideal for remote sites, avoiding the environmental and cost issues associated with underground fuel storage. The Fuelco mounting system allows for full inspection of the tank surfaces at the statutory intervals, and the tank design removes any bunding requirements.
The modularity of the site design allows for easy low cost expansion, and the Kombat (Fire Rated – ULP) tank allows the hazardous area to be reduced, decreasing installation costs.
These above ground fuel tank systems allow the fuel station to be rapidly installed, and quickly moved to a new site should business needs change.
The customer had a high quality, simple solution to their needs rapidly developed and delivered by Fuelco, allowing them to expand their fuel retailing business to this rural region.